At Cinderella Carriage LLC we offer many services. We specialize in weddings, special occasions, and can advertise for your business or group in parades or special events. Our carriages are superbly maintained and our horses are groomed to perfection. We are one of the most elegant horse and carriage companies you will find in the Midwest. We would love to be part of your "Happily Ever Afters."
Frequently Asked Questions

Q: How early should I book for an event?
As soon as possible! It is not unusual to book weddings more than a year in advance. However, they can be booked last minute. Ask us for availability, we would love to serve you.
Q: What areas do you serve?
We travel anywhere. Travel costs are incorporated into our wedding package. We have did weddings in Wisconsin, Minnesota, Illinois, Iowa, and Michigan.
Q: What is the rental time?
We will arrive approximately 60 minutes before the event and stay until contract completion. Our Wedding package includes two hours of service.
Q: What if I would like additional time with the carriage?
We will stay longer. This needs to be decided beforehand and we charge by the half hour or hour after that. This is in consideration of the horse. It can be a long day for him.
Q: What is included in the Wedding Package?
The package includes a decorated carriage, a "Happily Ever After" sign, the decorations on the horse are designed to match
your
wedding colors, the horse's mane and tail are beautifully braided, a professionally dressed driver and assistant, and permits if required. The package also incorporates the transportation costs.
Q: Is there a top on the carriage in case of bad weather?
The carriage is equipped with a top.
Q: How many people can the carriage accommodate?
The carriage can comfortably transport 4 to 5 adult passengers.
Q: What does the horse look like?
The horse is a black Percheron. The Percheron is an elegant draft horse that originated in Le Perche, France. The horse will be groomed to perfection and is comfortable around crowds (see Horses tab for more information).
Q: Is there a required down payment?
You will be required to provide a 50% down payment of the quoted contract price at the time of booking.
Q: If I cancel do I get a refund?
Down payments are nonrefundable.
Q: What does the carriage look like?
The carriage is a classic vis-a-vis. It is white with burgundy interior and has polished mirror finished stainless accents. Our second carriage is also a classic vis-a-vis. It too has polished mirror finished stainless accents and has navy blue interior.
Q: What does vis-a-vis mean?
It is French for face to face. While riding in the carriage, the passengers face each other.
Q: Do you have different carriages?
Besides the two vis-a-vis carriages, we offer a red and black 10 passenger wagonette and a "cinderella carriage". The cinderella carriage is white and looks like Cinderella's pumpkin carriage. Please note pricing is different for these carriages.
Q: I only need the carriage for a 20 minute ride. Is the cost less?
We're sorry, but no. We offer a basic minimum price for a wedding. This covers the cost of transporting the horse and carriage to the event, decorating the carriage, and preparing the horse. Some clients offer rides to their guests after the bride and groom's ride during the remaining time.
Q: What if I just want the carriage as a display only, no horse?
Subject to availability, we can bring a carriage to your event with no horse. We charge per day, per event.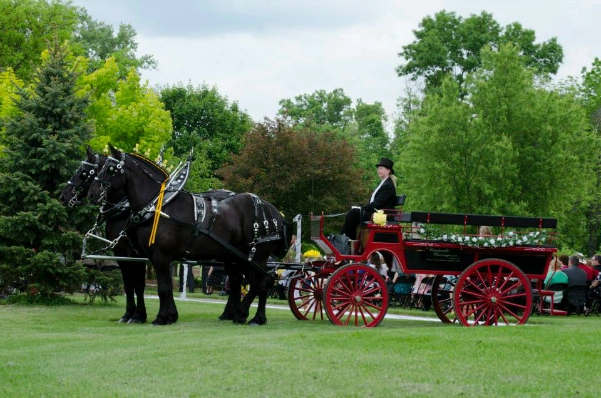 Ben and Roy on the Wagonette